25/01/17
Imagining more at UKTV
Written by Rebecca Trigg
How do you get your new starters up to speed quickly, in a way that reflects your personality and demonstrates the energy of your organisation? That was the challenge that award-winning broadcaster UKTV set for Acteon.
Home of much-loved channels like 'Dave' and 'Gold', UKTV is the fastest growing commercial broadcaster in the country, currently enjoying record revenue growth. It's also the only British TV broadcaster in the 'Sunday Times Top 100 Companies to work for'. UKTV's Chief Executive Darren Childs describes his organisation as "a media company with a commitment to technology, imagination and the future of media." UKTV has a truly innovative model curating brand-defining commissions, high-profile acquisitions and the very best of BBC, alongside programmes originally shown on ITV and Channel 4. The network delivers channels to audiences through Freeview, Sky, Virgin Media, BT, TalkTalk, YouView, Freesat, Amazon Fire and UKTV Play, and distributes its original programmes to 200 territories.
But like many organisations, UKTV were delivering their induction programme face-to-face. After a move to impressive new offices in London, they engaged communications and learning agency Acteon to create online induction materials to reflect UKTV's culture of imagination and creativity. Meridith Goodman, HR Manager explained their thinking: "We'd just moved into these amazing new offices, beautifully designed, all set up for flexible working, creativity and collaboration, yet we were still doing 'death by PowerPoint' for our new starters. It just didn't fit with who we are at UKTV. We wanted people to feel excited and empowered from the moment they walked through that door – if not before."
Digital personality
Using Acteon's technology, the Knowledge Centre LMS to host the materials, Acteon helped UKTV develop a series of learning modules containing games, videos and animations, all created in the unique UKTV brand. The media company is famed for its quirkiness – at the London office, you can find the head of a 15 metre parrot, a knight in shining armour, and tables that pass through walls. Meeting rooms have names like 'The Room Over There' and 'The Room with the Big Pink Sofa'. Acteon took that distinctive style and injected it throughout the materials to create a truly authentic experience for new starters.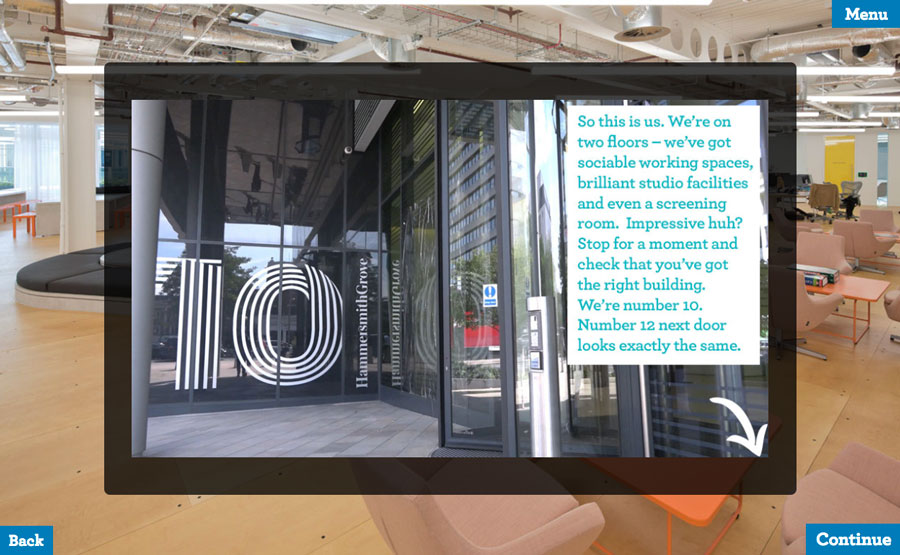 Culture and values
New starters now get to experience the impressive UKTV offices via a video tour of the building. They learn about the company's history via a social media-style timeline, containing video clips and news articles from the last 25 years. New starters explore each department in a bespoke online board game, complete with dice-rolling and question cards. The UKTV executive team leave amusing voicemail messages for the new employee, explaining who they are and what they do. Core values are communicated, strategy explained and even the basic but crucial information about coffee and breakfast is included. It's all done in a humorous and memorable way that crackles with UKTV's personality and energy. This all serves to reinforce the company's purpose – 'UKTV: entertaining the nation from a place where anything is possible' – which evolved from colleague focus groups.
"One of our core values at UKTV is to collaborate" said Meridith. "Acteon have certainly helped us do that. The Executive Leadership Team love our new induction programme and say that it absolutely reflects who we are and what we're trying to achieve. Working with Acteon has been game changing for us, enabling us to fulfil our purpose."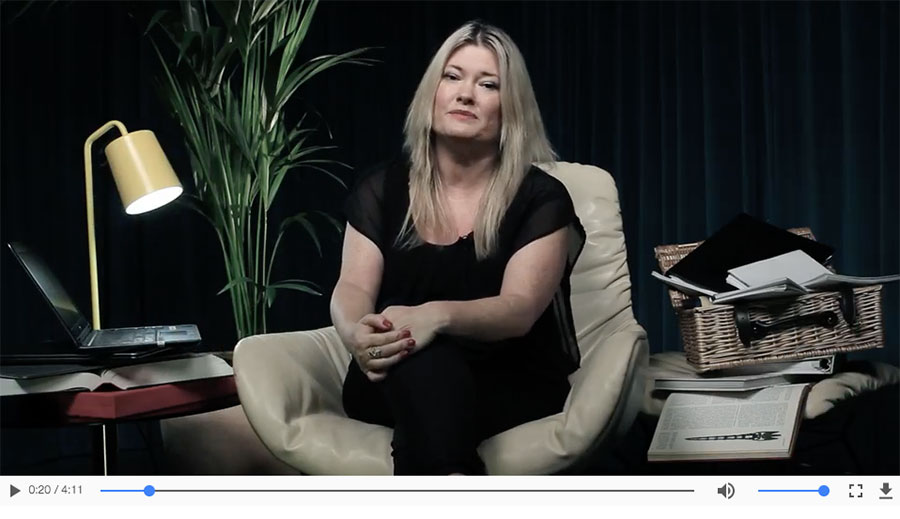 Internal resources and talent
One of the most successful modules has been the 'Data protection' course, which was inspired by one of UKTV's most popular comedy programmes. Crackanory is on comedy channel 'Dave' and tells modern day fairy tales, read by celebrities like Jimmy Carr and Sue Perkins. UKTV used this idea to tell a story about the dangers of hackers in the TV industry. The bespoke fairy tale was written and produced by Acteon, with filming taking place in UKTV's new in-house studios. The storyteller was a member of the UKTV compliance team. Acteon blended the footage with stylised animations and learning content, resulting in a memorable and effective course on data protection and information security.
"We didn't want boring e-learning. We wanted something that told people who we are at UKTV. We've built a collaborative, creative and fun working environment, and it was important our induction programme reflected that" said Meridith. "We were determined to create something unique – and Acteon delivered that for us."
Using induction programmes to harness culture, strategy and brand is a smart way of engaging new employees from day one. Here is some practical advice taken from the project.
Make use of your own resources – be creative about using what's already at your disposal. What really captures your organisation? A strong brand, onsite facilities, lovely gardens, a talented or enthusiastic staff member?
Check you're aligned with what's going on in the organisation – are there big strategy or brand changes in the pipeline? Make sure you know what's coming, so your new content doesn't become obsolete a week after launch.
Be really clear about values and purpose – this should be in the DNA of your materials. How do company values enable your people to achieve their objectives?
Use peer contributed content – get your employees to tell the story of your business. It will show who you are as a company and what it feels like to be part of it.
Be brave and be bold to get personality across – otherwise you could end up with bland and safe, which is dull and forgettable. Dare to try something new.
Make sure your technology supports your initiative. Talk to IT and get them onside right at the start. Be aware of constraints and work within them, or consider building a case for more investment.
Keep it brief – new starters will have plenty of opportunity to explore further, but don't overwhelm them at the outset.
Have fun with it! Focus on the exciting stuff. Where is your organisation going? Dream big and sell that vision.