Event: Speak to the human 2023
Harnessing disruption and navigating change: A guide for real humans
7th June 2023 Møller Institute, Cambridge
'Speak to the human 2023' will explore the theme of disruption and change. 
Humans don't like change. But we can't avoid it. Whether it comes from planned organisational strategy or from the perpetually shifting world around us, we have to find ways to navigate change.
So in our organisations, how can we as leaders and managers better understand the human reaction to uncertainty, and connect with people to help them respond?
Perhaps a little disruption, and a relentless focus on 'real humans', can get us a long way. Communication, empathy and social connections matter deeply, but often get side-lined by a focus on logistics and systems.
At this event, we'll bring together brilliant speakers, share experiences, and unlock creative thinking to open up ideas together.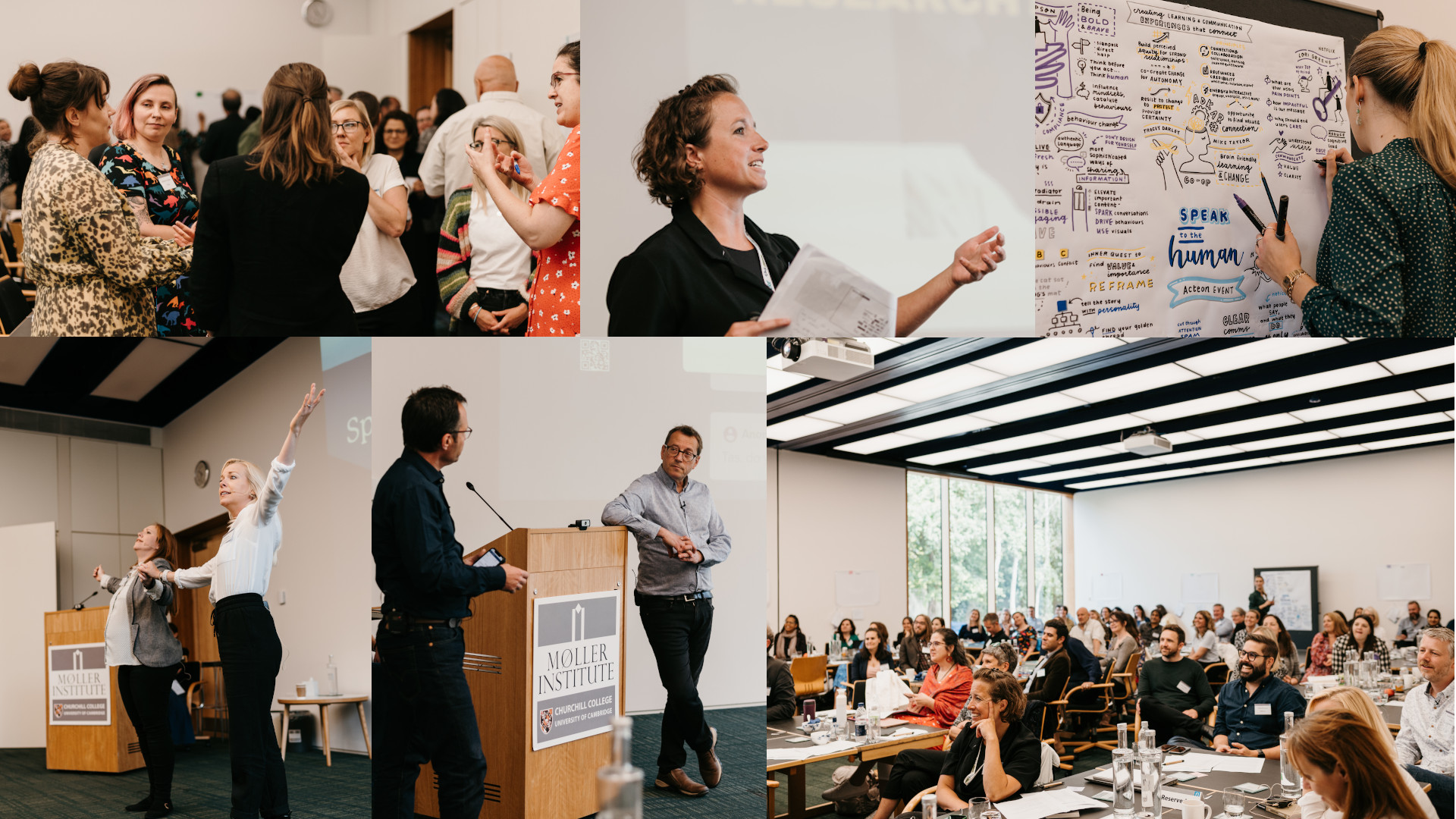 From last year's participants...
"One of the best events I have been to."
"Such an inspiring event. It's the first time I think I've cried with laughter at a business conference."
"Super-informative and a lot of fun."
"Inspirational event! I thoroughly enjoyed every second of it. I've attended many events, and in comparison, 'Speak to the human' was curated perfectly."
"Your guestlist of like-minded professionals created an intimate vibe with plenty of opportunities to share meaningful conversations."
"Great energy and engaging mix of content throughout."
"Loved how the day was structured into manageable chunks of information with interactive sections to keep engagement high."
"Meeting a very eclectic, interesting group of people was brilliant. Loved the warmth in the room. The music and illustration were inspired."
"So many great ideas with examples that can be adapted to our organisation."
"The content was inspiring and has been a lightbulb moment for me. Thank you all."
"So good to focus on bringing humanity back into the workplace."
"Wow! Such a well thought through event. Thank you!"
"Best conference/course ever - so well organised and kept to time with the koalas and the singers and illustrator were really special."
"I feel energised and full of ideas and creativity. Huge thank you."
"It was brilliantly organised and delivered."
"I absolutely loved the event! It was by far one of the BEST work conferences I have attended."
"A fantastic day – one of the best events that I've been to. Hoorah!"
"So rich in content, but even richer in the blend of formats and perspectives."
This year's key themes
Join our invited audience as we cover:
How to be more human-focused in times of change.
What it means to 'speak to the human' to help people respond to uncertainty.
How a bit of disruptive thinking can help us do this more effectively. And why navigating big change might benefit from us being a little rebellious.
How person-centred design can reveal insights that underpin behavioural choices, and how to use those insights to influence positive change.
Real examples to place ideas into context.
About the event
We are building on a very successful and vibrant event in 2022. This year's event will again be a thought-provoking day combining big ideas, peer insights and participant interactions for an audience of L&D, HR and other leaders and managers who need to engage employees or manage internal change.
Please visit www.acteoncommunication.com/event-speak-to-the-human for more information.
For 2023, we will again have an invited audience of around 80 people, with plenty of time and space for questions, peer discussion and networking.
Who is the event for?
Leaders and practitioners working in L&D, internal comms, HR, and any other business areas where there is a need to engage employees.
This will be relevant across sectors and for different types of organisations.
Drop us a note with any questions!... hello@acteoncommunication.com