"Born different" for Channel 4

Born risky
Channel 4 has a strong track record of diversity in its broadcasting. It has delivered iconic TV moments that have changed the way we think about diversity – the first lesbian kiss on Brookside, the first black sitcom in Desmond's, barrier-breaking content like Queer as Folk, and of course the Paralympics coverage that fundamentally changed views of disability.
To reinforce its position, Channel 4 created a Diversity Charter and set itself ten 'game changing' objectives for enhancing on and off screen diversity.
To help meet those objectives, we worked with Channel 4 to develop 'Born different', an award-winning blended e-learning and communication campaign.
By capturing the culture and values of the organisation, and delivering key messages in a variety of innovative and engaging formats, 'Born different' has helped Channel 4 hit key targets and achieved influence in the wider TV industry and beyond.
"The campaign is both visually engaging and hard-hitting, and is a great example of an organisation using their creativity as well as their own unique tone of voice to create engaging resources that resonate with their staff." - Sarah Foster, Major Partnerships Manager, Stonewall
Creating game-changing e-learning
Strong identity
Key to building learner engagement was to link the 'generic' messages of diversity to the personal aspirations of Channel 4 colleagues, and the specific actions they need to take.
The campaign name, 'Born different', encapsulates diversity with Channel 4's reputation for taking risks and pushing boundaries. This theme of Channel 4's unique position, and its leadership role in promoting diversity, was woven throughout the course and campaign.
A special version of the Channel 4 logo was created specifically for the campaign.

Authentic voices
In the e-learning, we used a wide range of video contributions in which staff from a range of roles relate their stories and experience. The impact of recognisable, relatable influencers made the whole campaign feel direct, present and relevant.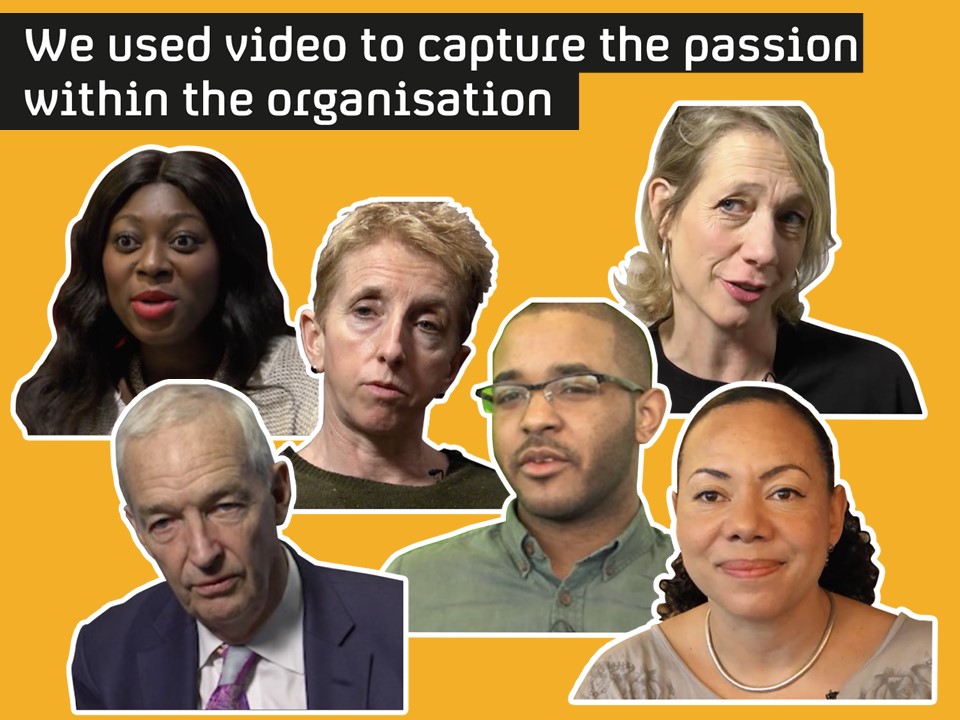 Interactive and engaging
Channel 4's workforce is young, creative and media-savvy. It was essential that the content met their high expectations of interface and technology. We used different methods to achieve this - 'Born different' blends text, graphics, audio and video in a wide range of learner interactions…
V-learning
Blending video and interactive e-learning was a highlight of 'Born different' – this powerful format allowed us to integrate peer contributed video content and Channel 4 broadcast output with a variety of e-learning interactions.
Scrollers
Scrolling stories and case studies worked as an attractive, interesting way to bring content to life.
Visual interfaces
For maximum impact, we created a highly visual learning experience with minimal text on screen. The interfaces reflect touch-screen design styles to facilitate use on mobile devices.

Campaign approach
To embed key learning messages and drive behaviour changes, we used a campaign approach, kicking off with a 3-week internal communication campaign. This was designed to reinforce awareness of Channel 4's commitment to diversity, underline the importance of individual actions, and drive the specific action of completing a diversity self-declaration.
Each week of the campaign had a distinctive theme:
Week 1 – "Be bold and different"
Week 2 – "Be included"
Week 3 – "Express yourself"
Communication channels included mini-videos and posters, 'Message of the day', all-staff emails from the CEO and other senior executives, 'Desk drop' and 'Self service guide' print pieces delivered to each colleague's desk during the campaign.
"With Born Different, Channel 4 is staying ahead of the game and really taking a lead in the UK broadcasting industry. It's helped us shine a light on diversity in our organisation so we can deliver our game-changing commitments and ensure diversity is at the heart of everything we do, on and off screen." - David Abraham, Chief Executive, Channel 4
Results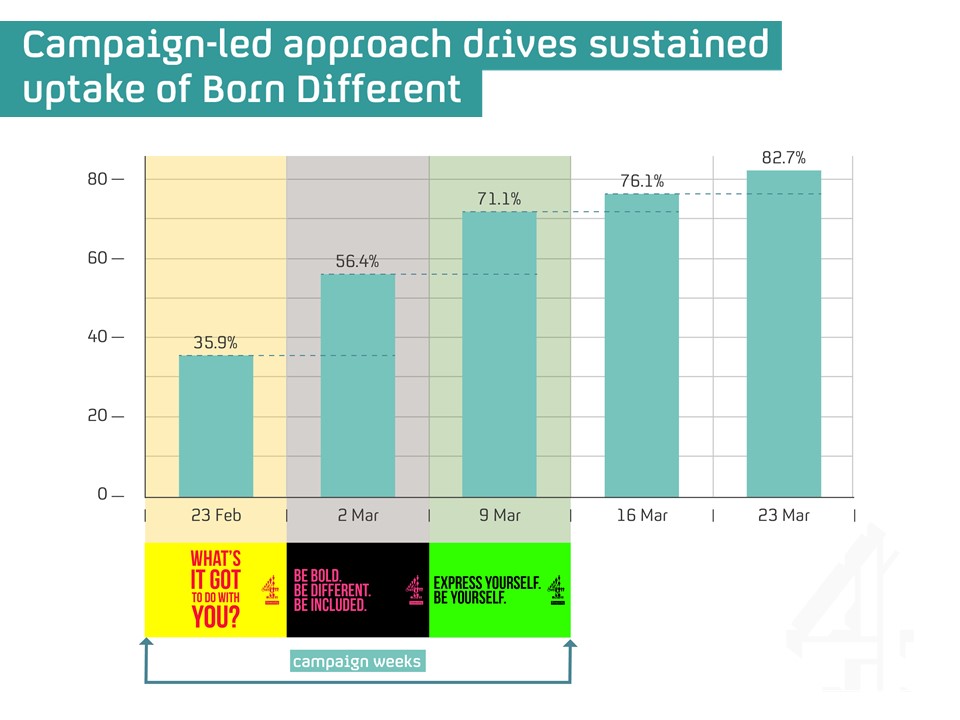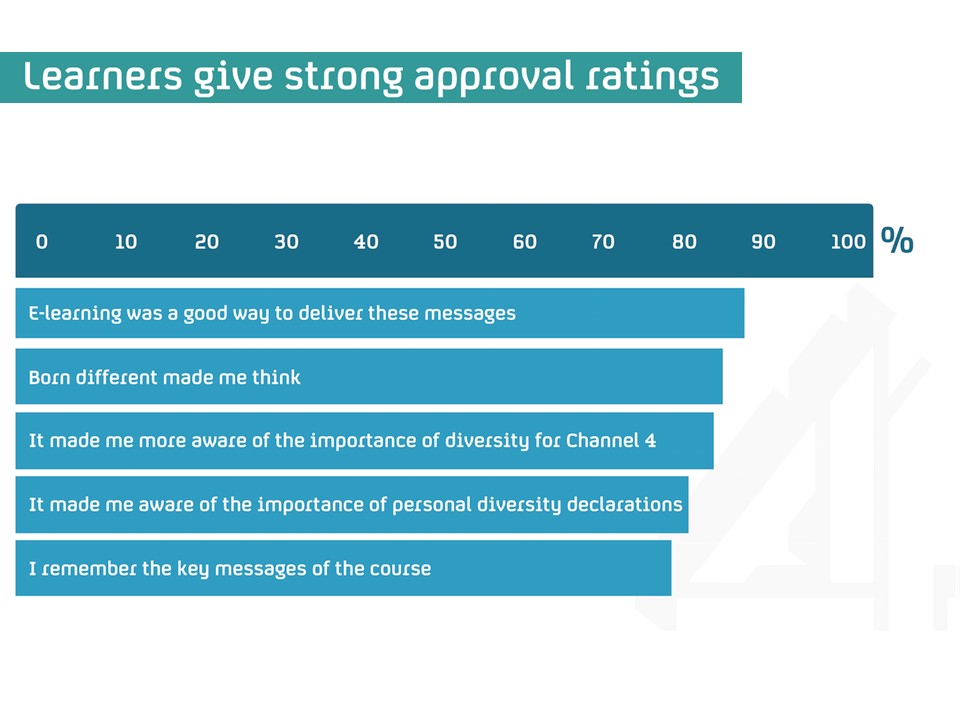 Born Different was a double winner at the Learning Technologies Awards, for 'Best e-learning project' and 'Excellence in the production of learning content'.
Impact
97%
colleagues with good to very good awareness of diversity, up from 76%.