"Developing the kindest touch" for HC-One

Working with HC-One, we created a range of innovative formats for learning that focus on the core behaviours that underpin kind care. And we've ensured learning is taken beyond the module and the classroom to make it meaningful in the workplace.
The result is the multi-award-winning Touch learning programme, winner of five national gold learning awards, including CIPD "L&D Initiative of the Year".
The background
HC-One is the UK's largest care home operator, with over 22,000 staff working at over 320 locations across the country. Those colleagues are all striving to deliver the kindest care.
The business was created in November 2011 as part of the rescue of care homes formerly run by Southern Cross. The much-publicised demise of that operator left HC-One the legacy of poor management and a disengaged and disillusioned workforce.
HC-One chose to address this challenge by implementing a new corporate learning platform as the means of embedding new vision and values, driving quality improvement and ensuring compliance with regulatory requirements.
Understanding the need
HC-One's Head of People led a comprehensive review of learning and development as part of the creation of HC-One. Based on the review findings, e-learning was chosen as a core element of the new programme because of it's potential for efficient, accessible training delivery, with comprehensive management of compliance.
Achieving these benefits meant overcoming significant barriers to adoption of e-learning. HC-One has a people-focused, care-based working environment. At the time, its staff had relatively low levels of technical literacy and often had negative attitudes to the use of technology in care work, and the technical infrastructure was very limited too. 
To help understand and respond to these complex needs, a stakeholder working party of 20 colleagues from across the business was created to guide the development of an appropriate e-learning solution. The outcome was Touch.
Creating a workplace learning culture
Touch is a blended learning programme that delivers a wide range of mandatory and specialist learning to all colleagues using multiple online and offline formats.
Every aspect of Touch has been designed to meet three key objectives for learning:
Objective 1: To move from a culture of 'training for compliance', to a culture of 'learning to deliver the kindest care'. 
This meant capturing the vision and values of the new business and embedding them throughout the learning experience. Touch is filled with HC-One imagery, audio and terminology, and tailored to the specific needs of HC-One learners.
Objective 2: To embed learning, rather than just provide training. 
Touch has embedded learning and development opportunities into a people-based care environment via the Touchstone learning management platform.
Objective 3: To move beyond the module, using the most appropriate channel to meet the business need. 
Touch uses a blend of channels to provide a rich and dynamic learning environment. The Touchstone LMS allows learning managers to blend and collate these learning resources as required to meet specific learning needs.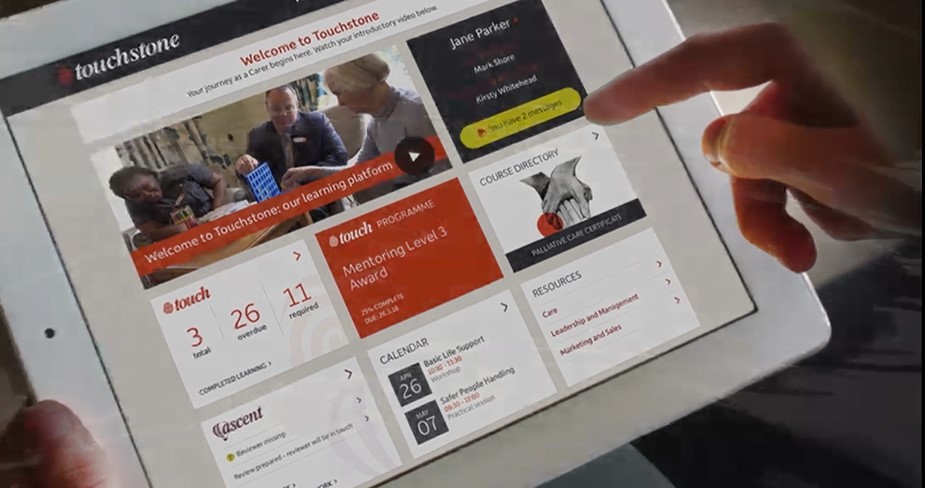 Key elements of the blend
E-learning courses
A range of interactivity and multimedia bring learning messages to life.
Interactive questioning prompts learner engagement.
Case studies and scenarios highlight real-work examples.
Branching scenarios allow learners to make choices and explore consequences.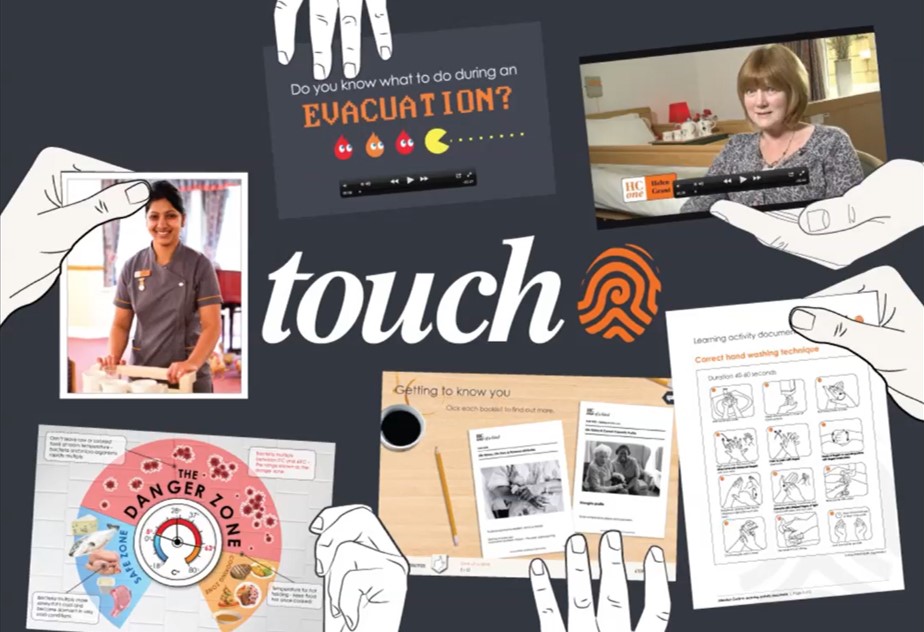 HC-One TV
Bespoke video-based learning, presented by and featuring HC-One colleagues at a range of locations.
Guided by instructional design principles to deliver key learning messages.
Used both as stand-alone resources, and embedded in structured e-learning courses.
For example, a set of HC-One TV short films focus on experienced Home Managers sharing best practice in a variety of key daily tasks.
'Touchstone pictures'
Animated 'mini-movies' created in After Effects and delivered in mp4 format for device independence.
These are short and high impact – often using amusing and arresting themes.
They include simple game formats.
The mini-movies are designed to reinforce critical attitude or behaviour messages, and act as teasers to introduce new courses.
Peer-contributed content
Peer-contributed content uses video and podcasts to capture and spread insight from colleagues.
Learning and development facilitators are equipped with audio recorders and flip cameras and trained in their use. This allows learning insights from the workplace to be captured and shared through Touch.
For example the 'Dignity Daily' featured a range of 'articles' where colleagues, residents and relatives talk about the everyday actions that maintain a resident's dignity.
Blended offline activities
Touch e-learning content is supported by a range of linked offline learning tools:
Touch e-learning courses have linked offline activities that help learners localise key messages in their working environment. Homes use these activities as the basis of guided supervisions and observations.
Conversation cards are coaching tools that help managers embed key learning messages from the e-learning courses. They help managers conduct guided conversations on a key theme and can be used one-to-one or in group meetings.
Impact
Over 90% approval rating.
250,000 training completions in 1st year, 1.5m since launch.
10% increase in staff engagement.
Dramatic improvements in training compliance rates.
£4,000,000 savings in training delivery.