23/04/20
Our favourite books, and what they tell us about communication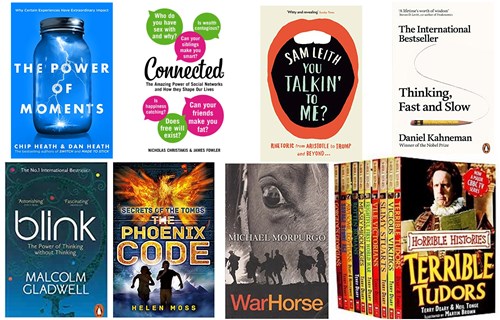 With more of us reading books during the lockdown, Acteon's Sarah Wightman ponders what our favourite books reveal about good communication and learning, and asks the team for their reading recommendations (getting some intriguing replies)…
---
Stuck inside during the lockdown, it seems more people are turning to books for ideas, inspiration, escapism and entertainment.
A survey by The Reading Agency, released in time for World Book Night, reports that nearly 1 in 3 (31%) of people in the UK have been reading more in recent weeks.
Whether a form of release, distraction, or simply because we have more time on our hands, many of us are clearly finding enjoyment by curling up with a good book.
To mark World Book Night, I asked the Acteon team (and friends) to share a few favourite titles that have made them think differently.
Our favourite books about communication and learning
For those of us fascinated with the art and science of communication, learning and human behaviour, what books have been helpful to dig into these topics and expand our ideas? A few of our favourites include…

The Power of Moments
by Chip Heath and Dan Heath
Chosen by Acteon consultant Tarin Adams. Tarin says:
"One of my favourite stories from this book is the example of the Magic Castle Hotel in Los Angeles – and how this budget hotel managed to garner very impressive customer ratings on Trip Advisor (out of 2,900 reviews, at the time of print, 93% of reviews rated the hotel as 'excellent' or 'very good'). They basically have this cherry-red phone mounted on the wall by the pool, and when you ring it someone answers with 'Hello, Popsicle Hotline'. You make an order and then along comes a member of staff with your popsicle (ice lolly).
"What I loved about this and other examples in the book, is how these simple defining moments can completely change how customers feel about your brand/service. And what is otherwise an unremarkable budget hotel was transformed into one of the top three rated hotels in LA by focusing on a few 'magical' experiences that define the customers whole experience at the hotel."
Connected. The Amazing Power of Social Networks and How They Shape Our Lives
by Nicholas Christakis & James Fowler
Chosen by Acteon consultant Catherine Molloy. She says:
"This book offers interesting insights on how our social networks affect and influence our behaviour. We like to think we're in mostly in control of our day-to-day lives, and yet the majority of our behaviour, and how we feel, is influenced by those around us, and their own social networks.  
"The book draws on a wide range of examples – some, relating to controlling the spread of disease within a social network, are particularly apt to the current global coronavirus situation.
"I've been meaning to re-read this for a while - and World Book Night seems like the perfect time to dip into it again."
You Talkin' To Me?: Rhetoric from Aristotle to Obama
by Sam Leith
Chosen by Acteon consultant Romy Craig. She explains:
"This book goes beyond politics, Greek philosophy and questions without an answer, and helps us to see (or hear) rhetoric all around us – in advertising, in conversation, in South Park…
"I didn't expect much more than an interesting read to entertain my inner linguistics geek, but being more conscious of rhetoric has not only made me analyse what politicians are saying even more, but has also given me tools to write messaging which is far more persuasive."
And a couple from me...
Blink
by Malcolm Gladwell
An art expert sees a ten-million dollar sculpture and instantly knows it's a fake. A fire-fighter sudden senses he has to get out of a burning building. What is it about instinct, snap judgement, that can be far more effective than a carefully considered decision?
Gladwell is a genius with telling stories which lead you twistingly onward. He weaves tales with the intrigue of a detective novel, revealing clues one breadcrumb at a time. Inevitably, the upshots are surprising and thought provoking. In Blink, he unpicks the fascinating power of 'thinking without thinking'. 
Which leads me on to…
Thinking, Fast and Slow
by Daniel Kahneman
Tackling human rationality and irrationality, this globally influential book by Nobel Prize winner Daniel Kahneman has had a profound impact on behavioural science, as well as many other fields. It shapes our thinking and approach at Acteon.
Kahneman explains the two systems of thinking that occur in the brain: System 1 is fast, intuitive, emotional and often irrational; System 2 is slower, more deliberate and rational, and more effortful. (More recently these systems have been characterised as the Chimp and the Human by best-selling author and psychologist Steve Peters, in The Chimp Paradox.)
Studying how these systems control our behaviour and responses begins to uncover ways in which people respond to messages and make decisions, and lead us to think more profoundly about behaviour change.
Our favourite books with powerful ways to connect
Successful authors are, of course, masters of using the power of words to make ideas come to life. In an age where there are such diverse and sophisticated forms of communication, and in a world that is constantly full of 'noise', what can we glean from books, as a simpler, more traditional way to convey meaning?

The Horrible Histories books
by Terry Deary
Chosen by Acteon consultant Rebecca Trigg. Rebecca says:
"These have masses of information about 'Groovy Greeks', 'Rotten Romans', the 'Measly Middle Ages' and loads more. They teach kids (and adults) so much about history – and teach us all how to do brilliant learning and communication.
Perfectly written for their audience, they are full of humour, surprising facts and poo jokes.  Packed full of amusing illustrations, witty characters, jaw-dropping true stories to keep readers turning the pages, along with plenty of clear diagrams, timelines and lists that summarise years of history and culture, all with an imaginative and playful twist.
Thoroughly enjoyable to read, even as an adult. Should be mandatory reading for anyone interested in learning and comms!"
Thinking further about this…
I love the idea - as highlighted by Rebecca - of tinkering with formats and expectations in a way that makes an audience pay attention. So I turned to the ultimate sceptical target audience… my teen and pre-teen kids.
This age group has grown up native to all those more exciting, colourful channels of communication, and are not always enthusiastic readers, less still likely to take up the recommendations of teachers or parents without a deep groan.
But this isn't really a fair characterisation. The power of finding a book which engages, intrigues and excites is still irresistible.
My young test-cases told me what their favourite books are, and why. Their replies struck me as touching on the essence of communication that sticks...
From my 14-year-old son: The Phoenix Code by Helen Moss
He explains: "The plot twists are surprising and you always want to know what happens next. So I keep on reading and don't want to put the book down."
From my 11-year-old daughter: Warhorse by Michael Morpurgo
As a reluctant reader, this is an interesting one. She says "This was the first book I actually wanted to read. I loved it. Then I read all his other books. He writes in a really easy way to read but the story is so good – and it's like a film but written down."
So much food for thought about how to make messages cut through!