06/02/20
Depart the ordinary: Acteon whisks you away at Learning Technologies 2020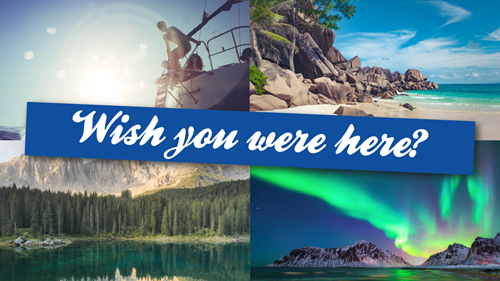 Where do you really want to be? What's stopping you getting there?
We'll be helping visitors to Learning Technologies 2020 (ExCel London 12-13 February) to visualise and explore their dream destinations for learning.
When you're starting to feel overwhelmed by the exhibition's array of glittering new technologies, and foot sore from traipsing round that cavernous hall, what you really need is an opportunity to sit down and think about where your organisation is heading on its L&D journey, and how any of the possibilities available might actually help on the way.
Our promise is to help you to 'think different'. We want to understand your dream destination, and map out your route to get there, steering around the obstacles in your path.
So whatever is slowing you down on your journey, you can leave your baggage behind you and step through our departure lounge to be whisked away for a mindful few minutes. Using a virtual reality headset, you can gaze at a peaceful horizon and have the space to think.
Wish you were here?
Sometimes the path to your desired destination can feel dusty and boring, or rocky and inhospitable. Imagine you're trying to communicate those 'important but dull' requirements like compliance and regulations – how do you make them stick with your internal audience? How do you make them surprising, memorable and fun?
In free seminars at the Learning Technologies exhibition, leaders from Acteon will be sharing insights into how we achieve memorable learning and communication for our clients, including Channel 4, Co-op, Royal Mail, AstraZeneca, Boots, ITV, and many more.
Managing Partner Owen Rose explains:
"We know that the dream destination for lots of L&D professionals is to be delivering solutions that create real impact and make a difference for their organisation. But we also know that can be a tough journey. It's hard to change attitudes and behaviours. Fortunately, there are lots of useful insights to be gained from disciplines like advertising, behavioural science and design thinking, and we're leveraging those to make a difference with communication and learning."
Don't miss out on Acteon's free 'Wish You Were Here?' seminars:
James Woodman, Theatre 2, 12th February, 14:45-15:15
Owen Rose, Theatre 2, 13th February, 11:45-12:15
James Woodman, Theatre 2, 13th February, 15:30-16:00
Visit us at Stand C28, ExCel London, 12-13 February 2020.